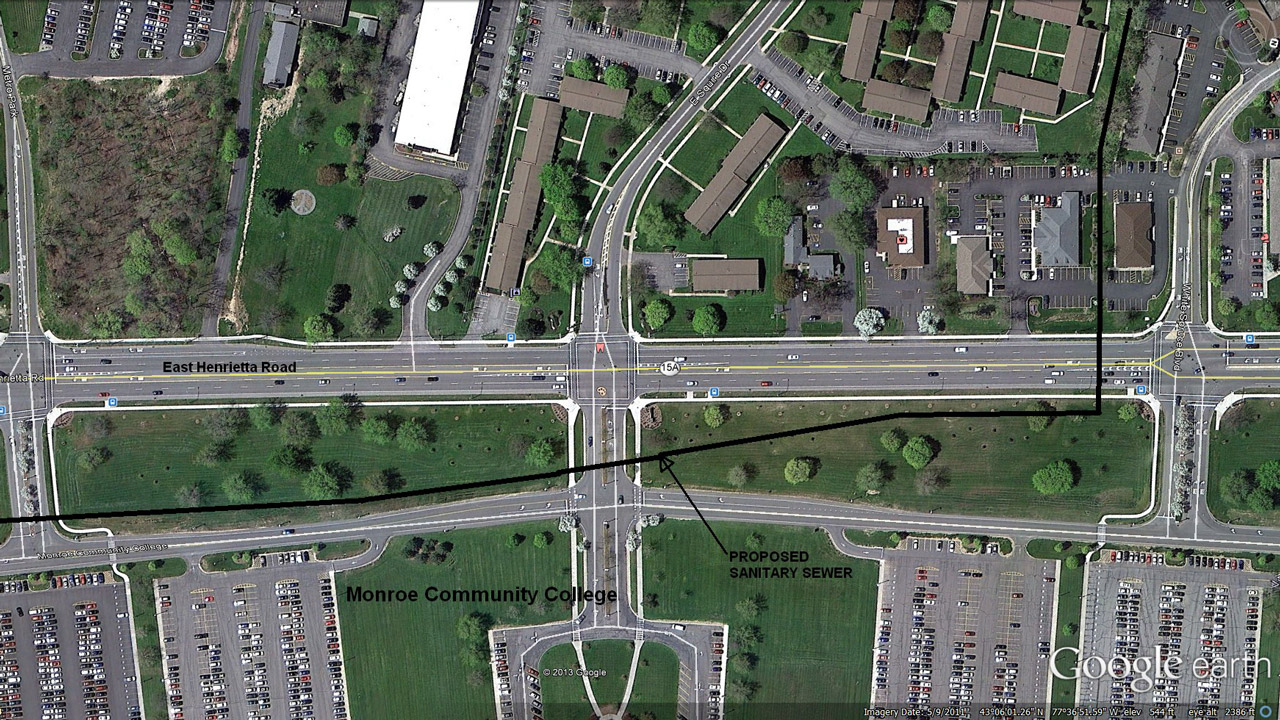 Monroe Community College Sanitary Sewer Project
This project involved the design of 2,400 linear feet of gravity sanitary sewer along the frontage of Monroe Community College (MCC), a crossing of East Henrietta Road (NYS Route 15A) and installation through a narrow corridor between commercial buildings located on White Spruce Boulevard. The purpose of the sewer installation is to eliminate an existing sanitary sewer pump station.
Construction included crossing 5 lanes of traffic on East Henrietta Road and City of Rochester 24" water main through the installation of 145 LF for 24" diameter steel casing and PVC pipe through the bore and jack method of trenchless installation. This method was also used to cross two (2) of the MCC entrance roads to prevent disruption to the college. In addition, 250 linear feet of the sewer was installed by the horizontal directional drilling method through a narrow corridor located between several commercial buildings. The corridor is crowded with underground utilities and surface structures.
The trenchless pipe installation portion of the work was bid as four (4) different alternatives at the request of the Town of Brighton. These alternatives included:
Horizontal Directional Drilling with high density polyethylene pipe (HDPE).
Close Tolerance Horizontal Directional Drilling with restrained joint PVC pipe.
Pilot Tube Micro-tunneling with hubless vitrified clay tile pipe.
Bore and Jacking Method with steel casing and PVC pipe.
A combination of horizontal directional drilling and the bore and jacking method proved to be the most cost effective methods for performing the trenchless pipe installation in this location. The trenchless pipe installation was performed by a local contractor. The open trench pipe installation was performed by the Town of Brighton Sewer Department.