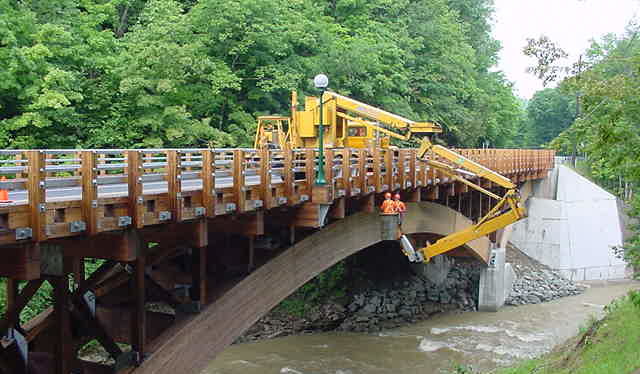 Biennial Bridge Inspection, Regions 3 & 7
As the Prime consultant on this contract, Lu Engineers' condition inspection crews were responsible for conducting biennial and interim inspection of 480 bridges and 600 spans during NYSDOT's 2016–2017 cycle. Lu's field teams inspected local and state owned bridges in six counties in Region 3, as well as a number of structures carrying and crossing railroads throughout the five counties of Region 7.
Equipped with the latest inspection technology and reporting software, Lu's teams were responsible for field inspection, preparation of reports, and issuance of flags for structurally deficient bridges that required corrective maintenance. Particular inspection concerns included documenting evidence of corrosion, section loss, cracks, concrete deterioration, and other defects. After assessing bridge elements, inspection personnel assigned condition states with quantities to each element based on AASHTO's (American Association of State Highway and Transportation Officials) Manual for Bridge Element Inspection. For certain structures, Lu's staff also used alternative inspection equipment, including industrial rope access.
Lu also provided overall project management and Quality Control (QC), procurement and administration of Work Zone Traffic Control (WZTC) and special access subcontracts, including WZTC for state teams. Project responsibilities also included documenting and reviewing flags; working with regional staff and local owners to resolve flags; performing Level I and II load ratings; coordinating QC submissions for inspected bridges; maintaining NYSDOT bridge databases; preparation of cost projections and updating budgets, monthly cost control reports; and monitoring the project to ensure inspection operations are progressed on schedule and within budget.