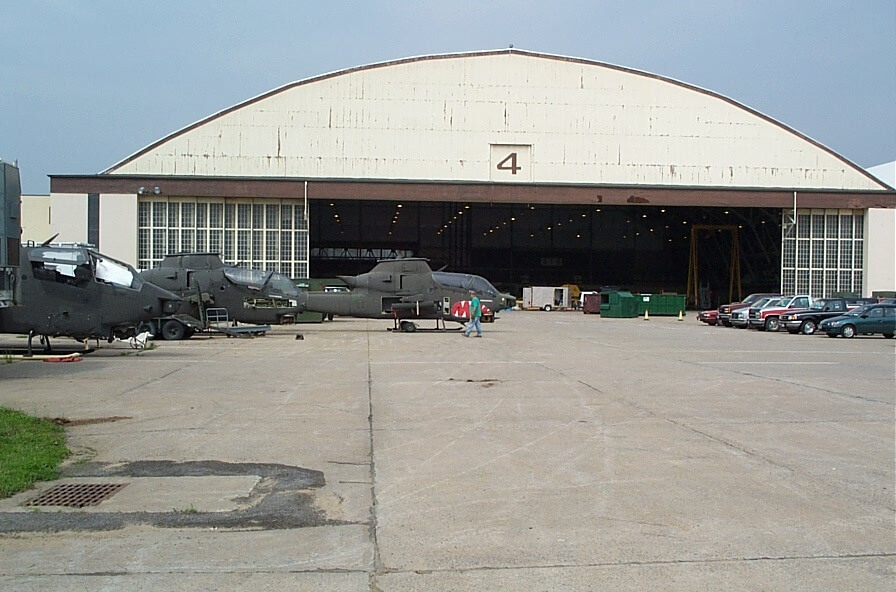 Air Force Research Laboratory (AFRL)/Former Griffiss Air Force Base, Hazardous Materials Investigation and Cleanup
In 2019, Lu Engineers was awarded its sixth, five-year, multi-million-dollar term agreement with the United States Air Force (USAF) to provide environmental and civil engineering services to the Air Force Research Laboratory (AFRL) based in Rome, New York at the former Griffiss Air Force Base. Lu Engineers began working with AFRL/RRS in 1992 while Griffiss Air Force Base was active and the firm continues to serve their engineering needs in support of on-going electronics research missions and associated management of office buildings, research facilities and other properties.
To address concerns related to the presence of potentially contaminated and/or hazardous dusts located on steel and other surfaces within a former aircraft hangar and associated shops, the Air Force Research Laboratory (AFRL), retained Lu Engineers to provide a sampling investigation to determine the extent of impacted surfaces throughout the building. The intent of the work was to identify potential health and safety impacts to AFRL and/or contract personnel conducting work within the building with the potential to generate airborne dust. Based on the findings of the survey, Lu Engineers developed plans, specifications and estimates for remediation of dust-laden surfaces and abatement of dust-impacted asbestos-containing materials. Projects were awarded to remedial contractors by AFRL directly and Lu Engineers provided remedial project oversight, as well as air and confirmatory wipe sampling while work was in progress. All work was documented in a report including project activities, analytical results, and disposal documentation. The firm also completed a follow-up dust and lead paint abatement and encapsulation project in Hangar Building 101 in order to ensure that dust-laden surfaces to be cleaned in the future by AFRL personnel did not create the potential for worker exposure to lead or other contaminants. Similar work was also completed for Building B2.  Project challenges included accessing all areas to be cleaned; contractor oversight; completing work in occupied work areas; and complex phasing, among others.
Over the years, the AFRL contract has provided Lu Engineers with numerous challenging engineering projects which call on a wide range of civil and environmental engineering disciplines. Property redevelopment and re-use has been a key component of the majority of environmental services provided to the USAF. Environmental delivery orders have ranged from small indoor air quality investigations and on-call sampling and testing to large-scale environmental investigation and remediation projects. All projects have involved extensive database management and GIS. Lu Engineers provides on-going services involving asbestos abatement design and project monitoring, energy conservation, petroleum bulk storage engineering, hazardous materials compliance, pollution prevention planning and implementation as well as cultural and natural resources management.